'Do Shiatsu with the intention that you already understand the meridian'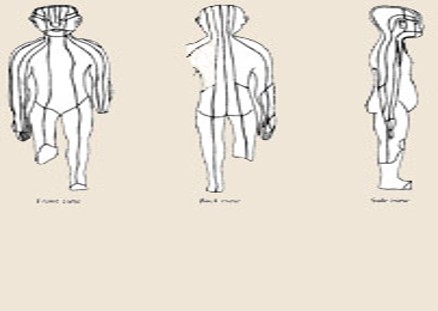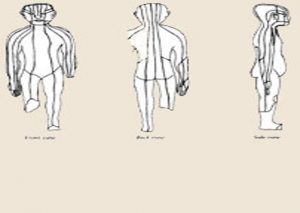 Deze meridiaan afbeeldingen, gevonden in de tombes van Mawangdui (168 BC) horen bij een tekst over moxa en zouden Masunaga geïnspireerd hebben bij het samenstellen van zijn meridiaan kaarten.
'Do Shiatsu with the intention that you already understand the meridian' zou Masunaga, grondlegger van Zen Shiatsu, gezegd hebben, 'It is feeling, not knowledge. What is necessary is merely to perform Shiatsu'.(1)
Rikyu, de grondlegger van de thee ceremonie werd gevraagd wat nu de geheime kunst van de thee ceremonie was en hij antwoordde: 'Kook het water, maak thee en geniet van de geweldige smaak'. En toen de vraagsteller antwoordde dat dat wel erg makkelijk was zei hij: 'Als jij dit kunt, dan wordt ik jouw leerling'.
Shiatsu gaat over gevoel, ervaring, over ki en connectie. Terwijl je je realiseert dat aanraking een basis menselijk vermogen is, is het soms ook moeilijk te begrijpen. Als je shiatsu doet hoef je wellicht niet te begrijpen waar precies de meridianen en punten zijn, het belangrijkste is dat je connectie maakt en voelt.
CHINEES OF JAPANS?
Voor de komst van de boeddhistische monniken in de zesde eeuw is er weinig vastgelegd over de ontwikkeling van de traditionele Geneeskunde in Japan. De oudst bekende referentie is uit de Nihon Shoki, een compilatie van mythologie, met een verhaal over Sukunahikona no Mikoto die een manuele heling verricht. Vanaf de zevende eeuw werd er met een enorme gretigheid en vaak door de Japanse regering gesponsord naar China gereisd door Japanse studenten en zo bij te dragen aan de ontwikkeling in hun land. De Chinese geneeskunde werd  in de Nara periode ( 710-748) geadopteerd als de officiële geneeskunde. Na 894, toen de regering de sponsoring stopzette, ontwikkelde zich een eigen stijl en methodologie in Japan, wat zeker versterkt werd in de twee eeuwen van isolatie ( 1633-1853). De manuele therapie die via China kwam heette Doin-Ankyo en werd bekend in Japan als Anma-Doin, later als Koho-Anma ( klassieke Anma), een vorm van manuele therapie die gelijk werd geacht aan alle andere vormen van geneeskunde. Dit veranderde in de loop der eeuwen ten gunste van de meer technische vormen van Geneeskunde, die gebruik maakten van instrumenten en makkelijker over te brengen waren met tekst in tegenstelling tot de subjectieve skills van de manuele behandelaar. Ampuku ontwikkelde zich in de Heian periode, de tiende eeuw, als een behandeling van de Hara, het centrum van mind/spirit/body. Om de Hara te kunnen toe vertrouwen aan een behandelaar vereist een enorm wederzijds vertrouwen, wat leidde tot een zeer hoogwaardige vorm van behandeling met de relatie tussen behandelaar en patiënt in het hart van de diagnose. Terwijl de kwaliteit van anma langzaam verzakte naar wellness ontwikkelde de nieuwe loot Shiatsu zich in de twintigste eeuw uit de Ampuku, gecombineerd met de Westerse anatomie en fysiologie.
Deze lijn van ontwikkeling is niet te vergelijken met het Chinese uitgangspunt. De Tuina, de Chinese variant van manuele therapie is niet te vergelijken met Shiatsu, niet in uitgangspunten noch in uitvoering.
Studenten klagen wel eens over de kaart die Masunaga heeft ontworpen en over het gebrek aan teksten, schema's en stap voor stap uitleg. De Chinese acupunctuur kaarten zijn anatomisch erg precies maar meer een lijn tussen de punten en daardoor met onnatuurlijk scherpe hoeken. De kaart die Masunaga ontwierp is weloverwogen anatomisch vaag met ronde lijnen en daartoe een aanzet om te vertrouwen op je gevoel van connectie  in plaats van te zoeken naar een mentaal construct dat je weerhoudt om contact te maken.
Wellicht is Te Ate, de kunst van genezen met de palmen altijd nog in het hart van Shiatsu als een geheim ingrediënt dat zich niet makkelijk laat tackelen met cognitie, maar vraagt om een ontwikkeling van het Hart van de behandelaar die nieuwsgierig is en geïnteresseerd om het leven van de cliënt werkelijk te begrijpen.
TCM
Ja, dus of je TCM nodig hebt om Shiatsu te kunnen leren of uitvoeren is de vraag. Het is zeker niet de weg er naar toe. Het is interessant maar het kan je ook in de weg staan.. Het Hart van shiatsu ligt niet in kennis maar in het kunnen voelen.
Joyce Vlaarkamp, oktober 2019.
Quotes in Seiki, Life in Resonance by Akinobu Kishi.