Ik overnachtte vlakbij de baai van Ise, bij de wedded rocks: een rotsenpaar verbonden door een dik gevlochten touw die de toegangspoort vormen van de Shinto tempel van Ise. Idee was om van hieruit de Ama te zoeken, de vrouwen die duiken naar zeevruchten zonder zuurstof. Een uitstervend vrouwen beroep wat veel mensen intrigeert, zelfs Hokusai al in zijn tijd.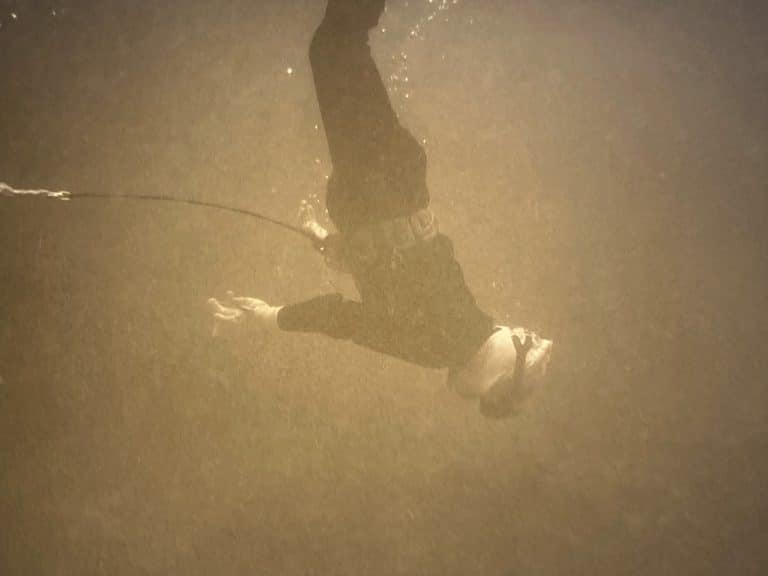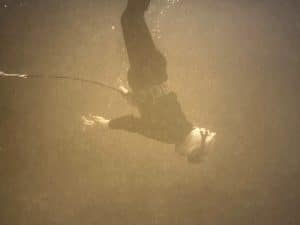 Met een hoopvol ingepakt badpak onder in de tas vertrek ik vroeg omdat ik gehoord heb dat de ama vrouwen al uitvaren rond zonsopgang. Een aantal bussen verder kom ik bij de baai, er is harde wind, geen mens te zien, veel vis vliegers. Ik vind bordjes die richting een ama hut wijzen, dicht, geen vertrekkende boten of wateractiviteiten. Wel veel schelpen en graten die wijzen op consumptie, zelfs een kleine verharde kogelvis, heel spannend! Verder lopend toch activiteit, in een van de schuurtjes langs de haven staat een vrouw nog in haar wetsuit grote trossen wakame zeewier uit te spoelen waar ze enthousiast over vertelt dat de wind die naar haar toe waaide. Haar man snijdt ze los en hangt ze over een zelf gespannen lijn bij hun schuur te drogen. Verderop komt er allemaal rook uit een schuur waar grote ijzeren schalen water worden gekookt op open vuren. De enthousiaste man roept me binnen en probeert me uit te leggen wat hij maakt: zout! Ik krijg een zakje mee. Wat een geluk dat ik toch bedrijvigheid zie. De kust volgend kom ik weinig meer tegen en ik ga door het dorpje waar heel veel zeewier te drogen hangt terug. Daar komt inmiddels een toeristen- spektakel op gang met veel stalletjes met gedroogd wier en vis en is er een heus ama museum. Daar leer ik toch weer een heleboel: waarom de ama oorspronkelijk in het wit doken en de symbolen die hen beschermen voor alle verdronken geesten in de zee. De steen die ik overal gemetseld zie is het gewicht waarmee ze overboord gaan om snel beneden te kunnen zijn en zo langer te kunnen duiken zonder zuurstof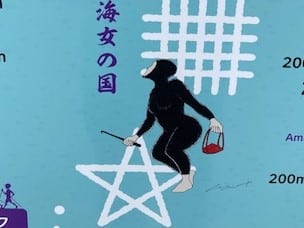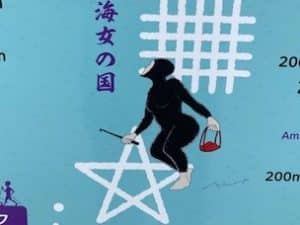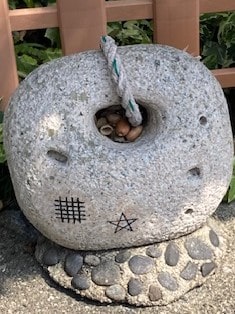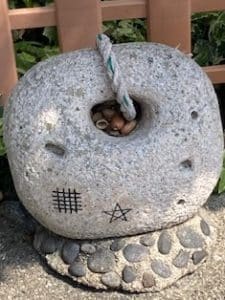 Uiteindelijk terug in de baai is een van de ama hutten inmiddels open, ik word binnengeroepen en enthousiast ontvangen door een aantal in het wit geklede oudere vrouwen die me vragen of ik iets wil eten. Vandaag is de wind te hard om uit te varen maar er is nog oogst van de afgelopen dagen. Enigszins vroeg wel, maar ik waag het erop. Op een kolenvuurtje worden mijn oesters, visje en schelpen geroosterd, soepje en rijst erbij. De oesters zijn heerlijk maar de schelpen moet je uitpeuteren en zijn een beetje taai naar mijn smaak. Het wordt inmiddels steeds drukker. Ik vond de ama niet in zee aan het werk maar zag fitte stoere oudere vrouwen die in hun werkwijze nemen wat de zee hun geeft zonder haar leeg te plukken.
Ik hoop ze nog eens live aan het werk te mogen zien!